American Modular Tooling
Fast parts fixturing, rapid tool development, simplified machining and fast assembly make American Modular Tooling an ideal addition to the worldwide movement to lean, efficient methods of manufacturing. Every element has been designed for maximum efficiency and cross-system adaptability.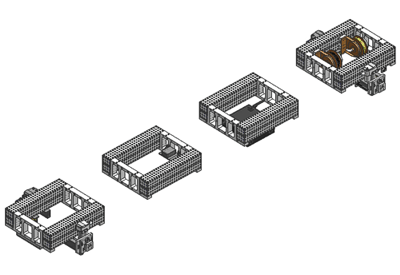 AMT offers:
Rapids builds and modifications, resulting in an immediate savings of time and money
Completely reusable components, unlike welded fixtures.
Light weight aluminum components resist corrision and are ecologically sound.
Modular elements, makeing it easy to duplicate, or repeat, designs.
Fixtures may be assembled away from it site of design.
Manufactured 100% in the USA
Components are available individually, in kits or as custom fixtures designed and built per your part print.
Benefits of the American Modular Tooling System
Manufacturing and Engineering:
Facility Usage: 48% Less
Lead Time: 60% Less
Tooling Costs: 44% Less
Tooling Labor: 60% Less
Tool Design Costs: 50% Less
Equipment Needs: 70% Less
Reuseable Material: 70% Reuseable
Manufacturing and Assembly:
Assembly Labor: 70% Less
Through-put Increase: 45% More
Accuracy of Assemblies: 80% Greater
Periodic Inspection: 50% Less
Reconfigurable: Endless
Modularity: Endless
Rapid Engineering Changes: Endless
Other Benefits:
Fewer corrosion problems due to hard coat aluminum
Lower shipping costs due to lighter weight
Faster setup at customers facility
Good ROI on leasing of tool (70% reuseable)
Can be used as temporary tool to make production schedule
Less space required for storage
Minimal maintenance requirements
Environmentally correct
Material Properties of AMT Components:
AMT "Construction Grade" Extruded Profiles and Locators

6061-T6, Temper 6
KSI Tensile: 47,000 PSI
KSI Yield: 40,000 PSI
Hard Coat Anodized
Elongation Factor: 8%

AMT "Professional Grade" Extruded Profiles and Locators

7075-T6, Temper 6
KSI Tensile: 78,000 PSI
KSI Yield: 68,000 PSI
Hard Coat Anodized
Elongation Factor: 6%

AMT Special Duty Extruded Profiles

6082-T6, Temper 6, Special Blend
KSI Tensile: 45,000 PSI
KSI Yield: 30,000 PSI
Hard Coat Anodize
Elongation Factor: 6.5 to 7.5%

AMT Special Duty Cast Products

319, 0-T5 Sand Cast
KSI Tensile: 30,000 PSI
KSI Yield: 26,000 PSI
Hard Coat Anodized
Elongation Factor: 1.5%

AMT Connection Elements

2024-T6
KSI Tensile: 69,000 PSI
KSI Yield: 57,000 PSI
Hard Coat Anodized
Elongation Factor: 10%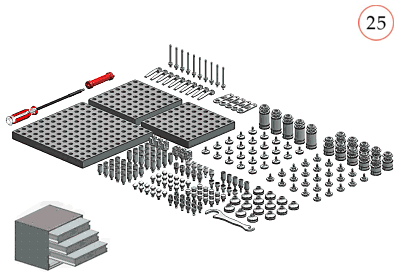 Partial Client List:
Accuride, Allison Engine, Behr Industries, BMW, Boeing, Briggs and Stratton, Chrysler, Dayco Products, Delphi Automotive, General Motors Corporation, General Motors Design Staff, Getrag Gears, Hewlett Packard, Honda, ITT Bell and Gossett, John Deere, Magna International, McDonnell Douglas, Mercedes, Mercury Marine, MP Components,New Holland Canada, Nissan Motors, Pratt Whitney, Rolls-Royce, Siemens and hundreds more.
As you can see by our partial client list, we've proven the value of experience. Craftsmanship, pride and quality are not lost on us. We possess a keen understanding of both standard and unconventional fixture design and fabrication and apply a wealth of knowledge to accomplishing difficult tasks. We will bring new life and enthusiasm to your projects.